We celebrate, act fast, and let the best ideas win
Many small, but quick steps:
March 2020
Just an idea. Researching our users
Taking the leap and founding Resights
July 2020
September 2020
Smoking fast. We release a beta version
Breakeven and investors aboard
December 2020
March 2021
+300 happy customers
First birthday and 20 employees
July 2021
September 2021
Winning a prize. "Best new company"
First acquisition! Welcoming Domuspro
March 2022
August 2022
New HQ. Pssst beers in the shower
Nominated for 5 major prizes. Wow!
October 2022
November 2022
100 percent growth this year (so far)
Perks & Benefits
We believe that benefits are more than free beers and a market-rate paycheck. While we check those boxes (😉), we know the most important benefits are the ones that speak to you on a deeper, more personal level. In other words, a workday full of compelling problems and dedicated people.

We are a fast-growing, early-stage startup with under 40 people in our organisation. This implies more responsibility, taking ownership of tasks, and being receptive to constant change, which is not necessarily for everyone.

At Resights we have a laser focus on building something useful - that's not a given. We have already changed how an entire industry works, and now we want to expand our footprint to new markets.


Recently, we could afford to rent a pretty neat office in the city center. However, what truly makes the office a place you want to stay, is the high spirit. In other words, an office that makes you smile. From fierce battles in Mario Kart to blind tastings and the sound of a gong when new sales are made.

Slightly hungry? Or a lot? We cover it all with free lunch and a fridge jam-packed with food.


At the end of the day, we are a business and not a family. However, we still like to have a little fun together. Outside of work, we like to travel, celebrate, exercise and laugh together. It's not mandatory, but it's pretty natural for us.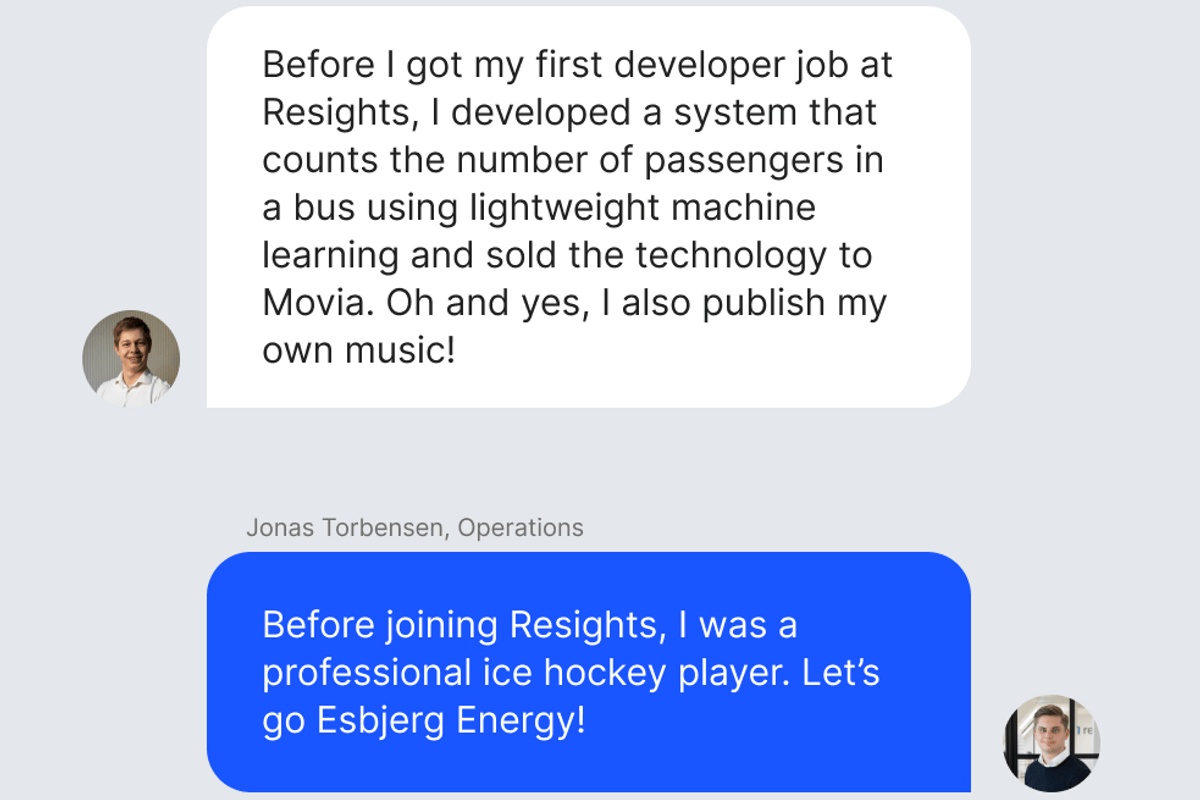 Heterogeneous perspectives
Our talent comes from professional backgrounds like engineering, music, biotechnology, and real estate. Our youngest employee is 17 years old, meanwhile, we just gifted another employee a game of pétanque for his retirement. Some have a higher education, while others didn't pass elementary school. But we don't care.

That's the Resights we want to build, a place where everyone brings their true self to work, and knows, that they can achieve whatever success they strive for.

Phone screening
1 💃🕺
It takes two to tango. Our recruitment process always starts with a phone call, where both parties have the opportunity to ask questions with full transparency.
Show us your skills
2 🤺
You will be assigned a task that allows you to show us your skills by solving a real-life problem that we face on a daily basis. No brain teasers.
Culture interview
3 💙
Lastly, you will meet our Founders and a member of the team, who will tell you more about their vision and expectations to you.
We continuously listen to understand where Resights truly excels and watch for opportunities to further enhance the way we work.
Do you have flexibility to take time off when you need to?
When you say what organization you work for, how do you feel?
Already working at Resights?
Let's recruit together and find your next colleague.